Darcylog: measurement of permeability on drill cuttings
---
Download

DarcyLog: Porosity and Permeability measurements from Drill Cuttings – DarcyLog Commercial Brochure
---
Measurements on cuttings
Measurements on cuttings (small rock samples of a few mm in length) can improve reservoir characterization when cores are not available. In most wells, properties measured on cuttings are representative of the matrix properties.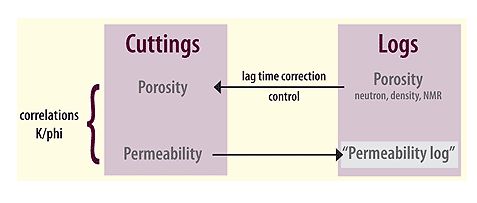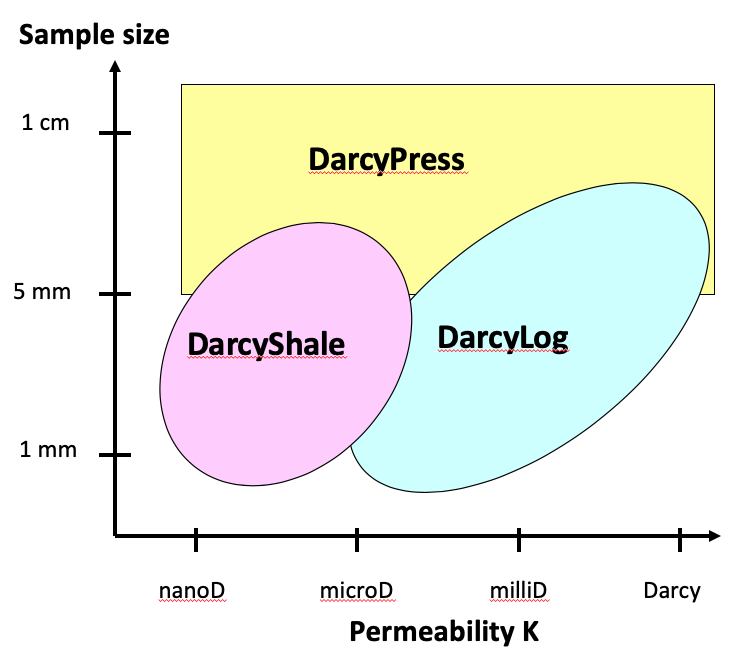 Domains of application
Dry and clean cuttings. Size: 1- 5 mm.
Permeability: 0.01 to 100 mDarcy.
Cuttings Requirements
Minimum volume of 3 cc after cleaning and sieving.
Porosity > 5%.
Principle
Air is trapped inside the cuttings during an imbibition in a viscous liquid.
Pressure is applied (10 bar) on the liquid to force it to enter into the cuttings and compress trapped air bubbles.
Permeability is derived from the transient pressure drop, similar to a well test.
Limitations
Darcylog is not a "push-button" apparatus. Interpretation of the relaxation curve requires experience and expertise, and can be difficult in case of mixture of formations during sampling.
Cuttings are not always representative of the reservoir: high permeability sandstone can be crushed into sand, and cuttings can sometime only represent shale layers.
Cuttings represent only the "matrix" permeability; fractures and vugs are lost during drilling.
PERMEABILITY MEASUREMENT ON SMALL ROCK SAMPLES, R. Lenormand, F. Bauget, G. Ringot, Society of Core Analysts, paper SCA-2010-A073 – pdf file